And the quest for the sun leads me to Antalya, in the very south of Turkey, and my thirst of blue would eventually be satisfied (see photos).
But the curse of the Ramazan Bayram (see this post) is still there: both of my hosts in Antalya are leaving for the holiday, and I grab the opportunity of see Olimpos, just around the corner.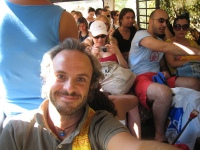 I grab a
dolmuş
to the bus staion, there the dolmuş to Olimpos, that leaves us to the main street, and from there — guess — a dolmuş to the city. City? Oops! There is no city: the place is just an agglomeration of pensions and bars lined on both sides of the only street that leads through the ruins to the beach.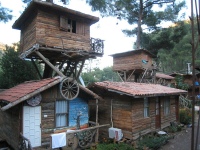 But some of the pensions are of a peculiar kind: tree houses! Feeling my age slowly flowing away, I climb on the ladder to my new
home.
—
More photos of Antalya and Olimpos here.