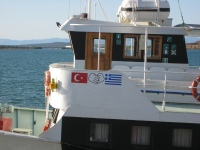 This happened actually on September 3rd, at my arrival in Samos. I'm posting it today because I don't want to forget it!
It's a dialog between a New Zealand guy (working for the port tourist agencies) and me.
~ • ♥ • ~
The Kiwi guy sees me and asks:

—Where are you from?

—Italy.

—Oh, nice! I love Italy!

—Yep!

—Is Nice in Italy or in France?

—In France.

—And Florence? And Venice? I loved that area, but I was a little drunk, so I can't remember if it was France or Italy!

—…
I smiled, skipped the Treviso-close-to-Venice part, and went to the agency next door.