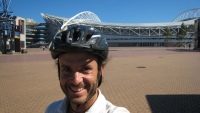 East Coast's landscape is fairly different from what I had before. As you go south, it is more and more similar to the familiar skyline of holiday cities,
Jesolo
and
Lloret de Mar
being the first to come to mind! High rise buildings, shopping centres along the road, heaps of traffic — while driving in WA you can maybe pass four or five cars
a day
— and, sadly, the rain!
After Brisbane I was planning to spend a fair amount of time in the superb beaches of the Byron Bay area, but the weather was less than optimal for that, so I ended up in Sydney way before expected.
That is not a bad thing at all.
The CS experience has been so far perfect: two nights per couch, and I am already on the third with two more booked :-) Comparing this with the reast of the Aussi experience, this is way beyond my expectations. Plus the city itself is beautiful. Apart from the Opera House and the other main attractions, I am particularly enjoying everyday life in the popular districts, Merrickville, Newtown, Redfern, and especially the food scene in the latter :-d
Sydney population is quite mixed, comprising pretty much all the kinds and flavours, with the notable exceptions of
Australians
: aboriginal population is barely visible here. Here you have a bright example of
local
people :-D
I'm writing this article while outside the rain is pouring (but happily couched), and I'm thinking if someone could be interested in the gory technical details of how I actually maintain this website, the software involved and my work-flow. Maybe I'll write something in the About section. Or maybe not.