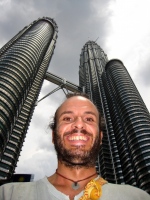 Although it could seem incredible, my one-month visa for Thailand expired! Time flies, doesn't it? I was so presented with two choices: either doing the so-called Visa run to Myanmar and back or just going somewhere else. As you probably already know, it was Bye bye Thailand.
Being at that moment in Ko Lanta—quite south—I decided to proceed to Malaysia, and to leave the rest of Indochine for the next time—any way, the monsoon is coming!
After a few hours of a confortable bus, and around three hours (3!) of less-than-confortable pure queue at the Malaysian border, I land in Georgetown, in the Penang island. The place is different from everything I saw so far: I was still celebrating the fact that in Malaysia the Latin alphabet is in use when I discovered that actually the place looks a lot more like China to me! The Chinese and the Indian communities are at least equal in mumber to the Malay one, and so does the food—especially noticeable from the smell coming from innumerable street stalls.
Another thing I discovered quite soon is that, being an Islamic country, here beer and alcohol in general is expensive, due to high taxation :-(
Any way, after a few days in Georgetown—during which I basically do nothing—I move to the more hectic Kuala Lumpur. In wich I basically do nothing, except for taking a few photos under the twin towers :-)
Next stop Melaka, where I am now. The city is very nice, and the best part is that everything is in walking distance. I'm in a guest house with nice … guests! :-)
The news is that—for the first time—I know already one of the next destinations: I have just booked a flight to Bali! Yes, I'm going to the beach. Again.
—
You can find more images in the new Malaysia gallery