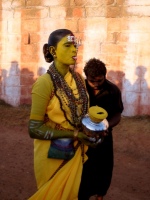 From Kanniyakumari to Chennai to Pondicherry we crossed the big Tamil Nadu state.
In Kanniyakumari, the southernmost point of India, we mixed with the pilgrims, coming barefoot from all over India, each worshiping a different God. There we had la Croisette experience: each group of people we met was asking to take a picture of us, or with us: most pilgrims came from remote villages, and they never see foreigners. A group of five westerners was not possible to miss (and Dan is almost two metres tall!). So we managed to see the sunset and the sunrise from the same spot. But the best part was the very crowd: all a surprise, from people making tattoos in the middle of a dusty street to women with her tongue pierced by a long dagger.
Then was
Chennai
. You probably know from the newspapers about
Ramki
preparing solo a wedding feast for 500 people! The rest of the time I was basically preparing the
new version
of this site
(*)
, as well as celebrating my birthday :-)
My
cornetto e cappuccino
hunger was eventually satisfied in
Pondicherry
, an ex-French colony dotted with
cafés
and bakeries—something that in India is not that easy to find, if not in a big expensive city. I also had the chance of visiting
Auroville
, some sort of Utopian semi-commune city born in the sixties from the vision of
the Mother
, but my opinion on this project is still very uncertain. I certainly need to explore the very city for a longer time, and to meet more residents.
—
Preparing a decent article, complete with images and references, it is a surprisingly long operation. Especially because I need a wireless connection with my laptop for uploading the photos, not a simple internet café, let alone the fact that I'm writing in English.