Quobba Station! This is the kind of place you can expect to find while in the Australian outback: abandoned barracks and stables from the Thirties — built for god knows what purpose — refurbished(?) as a caravan camping site. No power except from 6AM to 10AM and from 6PM to 10PM, salty water in the showers, no mobile phone network, but one phone booth close to camping kitchen(?). All this at least 50 km from the next inhabited building.
Apparently one has no reason to go there, but this place happens to be where the Blow Holes are. Sort of cold geysers made by high-pressure sea water being pushed and canalised by giant waves into underwater cavities in the limestone cliff. As you can see from the photos it is really worth the trip: they even come with a bundled rainbow!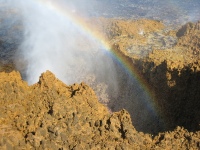 This was also the day we crossed the actual Tropic of Capricorn. The weather is getting better each day, and the night are not-so-cold anymore.
Me happy :-)
—
Note: as usual, more photos and a video will arrive with a better Internet connection.